Look chic and stylish at the office with these summer work wardrobe essentials. These 6 summer items keep you work wear appropriate to excel at the office while look summer savvy. Silk tank tops, high heel sandals, print and vivid blazers, bold color pencil skirts, sundresses and ankle length trousers can be intermixed to create a wealth of outfits for your summer work wardrobe.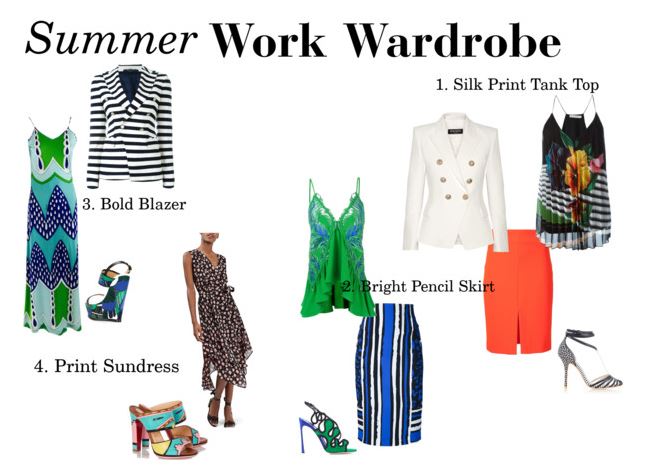 Silk Tank Top
Sleeveless, halter neck, and spaghetti strap silk tank tops are the perfect summer layering piece to keep you cool while looking stylish at the office. Opt for bright colors, playful prints and fun necklines to add flare to your look.
Bold Color Pencil Skirt
Add summer style to your look with bright colors and prints. Pencil skirts define chic work style but catch their eye in summer's bright hues of kelly green, buttercup yellow, sapphire blue, or fuchsia. Play with stripes and geometric prints in your skirts, perfect to pair with a solid or small print top.
Print Blazer
Whether it is in stripes, a floral, paisley or art deco prints, or a bright solid color, a chic lightweight summertime blazer is a style essential. Opt for a textured white blazer (this one from Balmain I love or this reasonably priced Calvin Klein version) which is a great summer neutral. Rebecca Minkoff makes a fabulous fuchsia blazer and this striped Tagliatore blazer is a must.
High Heel Sandals
From business casual to dressed-up professional, this season's high heel sandals carry you in style. Bright colors and bold prints add zest to your look. For a structured business look you can have more fun with your sandals. If wearing a more laid-back summer work outfit, instead opt for more polished high heel sandals covering three-quarters of your foot.
Summer Sundress
Maxi dresses, midi dresses and knee length print dresses take you to the office in style. Silk, chiffon, and linen-cotton blends keep you cool yet savvy at the office. Pair with a blazer or structured cardigan to keep the look business professional. Avoid beachy or tropical prints which don't appear as professional.
Ankle Length Trousers
Summer's neutral colors of navy, light gray and white are a fashionable back-drop for bright blazers and print blouses. Or opt for bright color ankle length pants in fiesta red, kelly green, orange or blue to add pizzazz to your look. Ankle length trousers should be a slim fit