It's an arm party for pretty jewelry!  Stacked bracelets are a hot trend to wear.  Intermix larger bracelets with smaller and varying size stones and bling to make a statement on your wrist.    Watches POP by adding chunky and smaller bracelets to stand out.
Be careful when layering your bracelets that you don't pile on too many.  The bracelets shouldn't stack half way to your elbow.  Generally 4-5 bracelets is a good number to try all depending on the size and amount of bling.  Also vary the style of the bracelets to add dimension so you don't over do it.
Style NO's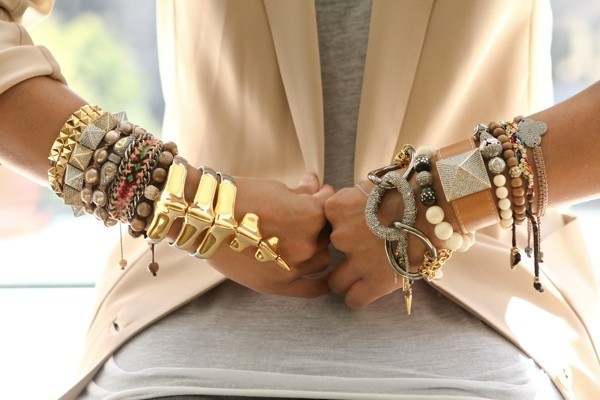 Let's get this arm party started!
Silver Stackable Bracelets
Hematite Stackable Bracelets
Gold Stackable Bracelets
Chunky Bracelets with BLING
Marlyn Schiff Leopard Bracelet
My local favorite boutiques to shop for stackable bracelets are Lou Lou's (locations in MD, DC, and NoVA), Bauble Bar, and Lilac Bijoux Annapolis.
XOXO,
Divine Style DC